Eric Newhouse
"Instantly, I was sobbing helplessly on my daughter's shoulder while the park ranger rubbed my shoulders. I couldn't believe it, still can't believe it. How could I have so emotional a reaction when I had never been in combat, never been shot at, never been forced to take a human life?
"War scars us all, but does the most damage to those closest to it." – Faces of Combat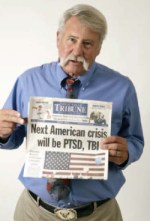 Eric Newhouse has earned his reputation as a crusading journalist, winning the Pulitzer Prize in 2000 for a yearlong series of stories about alcoholism. Through personal, in-depth interviews, he has seen the devastation caused by PTSD from the Iraq and Afghanistan wars and the ongoing trauma for veterans from Vietnam and other American conflicts. Newhouse's crusade is to get the young men and women who have served their country on the battlefields the help that they need… and deserve.
Eric Newhouse has been a journalist for four decades. The first half of his career was as a reporter, correspondent and bureau chief for The Associated Press, working in Baltimore; New Orleans; Chattanooga, Tenn.; Pierre, S.D.; St. Louis; and Charleston, W. Va.
As AP correspondent in St. Louis from 1980 to 1984, Newhouse was active in the local chapter of Sigma Delta Chi, the Society of Professional Journalists. During his term as president, he secured a grant from the Seven-Up Co. to bring some of America's leading journalists to St. Louis to discuss the political, moral and ethical issues facing their profession. That six-part series of programs, "The Media and You," was aired live by the local PBS station, KETC.
The second half of his career has been with the Great Falls MT Tribune, where he is currently the projects editor.
For more info, visit: EricNewhouse.com