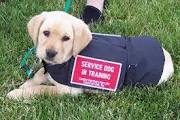 When I decided to write this blog on working/service dogs, I had no idea how little I knew about the subject. As a child, any thought of a working dog brought images of either a sheepdog watching his sheep (Sam Sheepdog with Wiley "Ralph" Coyote as they clocked in and out of "work" each day) or a Great Dane helping a bunch of meddling kids unmask the villain (you all know who that is). Probably, like most of you, this was the limit of my knowledge of working dogs.
http://www.youtube.com/watch?v=p_u3YRZb74w
As I delved into the research for this project, I have learned that there is a difference between a service dog and a therapy dog with legal ramifications that would surprise you. A service dog is allowed to go everywhere and anywhere with its human while a therapy or emotional support animal (ESA) is not. They are two different things. First, only a dog may be recognized by the Americans with Disabilities Act (ADA) as a service animal. This grants that animal all the protections of the ADA. An ESA whether a dog or not may be prescribed by a doctor if the doctor thinks the individual would benefit from having a pet. According to www.servicedogcentral.org, some of the psychological benefits of having a pet are reduced stress levels, less loneliness, and better mental health overall. A doctor can write a request that the animal be allowed in residences where no pets are allowed. The animal can even fly in the cabin of an airplane even if it normally would not be allowed but that's the limit. It can't go in stores and restaurants with you. The rest of the world simply views your ESA as a pet.
Are you all indignant now? Upset and thinking that this just isn't fair or right? Well, don't be too hasty. This distinction is made to protect you, Joe and Jane Public. Let's look at service dogs for a minute. What do they do?
" Effective March 15, 2011, under the Americans with Disabilities Act,
Service animal means any dog that is individually trained to do work or perform tasks for the benefit of an individual with a disability, including a physical, sensory, psychiatric, intellectual, or other mental disability…The work or tasks performed by a service animal must be directly related to the individual's disability. Examples of work or tasks include, but are not limited to, assisting individuals who are blind or have low vision with navigation and other tasks, alerting individuals who are deaf or hard of hearing to the presence of people or sounds, providing non-violent protection or rescue work, pulling a wheelchair, assisting an individual during a seizure, alerting individuals to the presence of allergens, retrieving items such as medicine or the telephone, providing physical support and assistance with balance and stability to individuals with mobility disabilities, and helping persons with psychiatric and neurological disabilities by preventing or interrupting impulsive or destructive behaviors. The crime deterrent effects of an animal's presence and the provision of emotional support, well-being, comfort, or companionship do not constitute work or tasks for the purposes of this definition
Service dogs have very specific tasks and are highly trained. For certification they must receive a minimum of 120 hours of training. That's more hours than it takes to become a certified nurse's assistant in the state of Indiana. And like a CNA, a service dog must pass a test to be certified. Part of that test is to have a big, juicy raw steak thrown at his feet and the dog has simply ignore it. Try that with your dog and let me know how it goes. This is to make sure that when you're out in public, the service dog doesn't lunge across the table to grab that ribeye off the next table and get little Timmy in the process. Emotional Support Animals (ESA) on the other hand only need to yearn for that ribeye from outside the restaurant. They actually need very little training. They have to be housebroken, non-threatening to others and not a nuisance (barking, destructive behavior).
For more information on the training that service dogs undergo, visit the link below:
http://www.iaadp.org/iaadp-minimum-training-standards-for-public-access.html
Since I have grown up, I have seen many more working dogs than just Sam and Scooby. Some good, some not so good. One that recently impressed me was at a convention on the convention floor. This dog stayed right next to its partner surrounded by hundreds of people and simply stared up at his human the whole time. The dog was wearing a service dog vest, I don't know what his job was, but I could see that he was doing it diligently. NOTHING could distract this dog from what he was doing and what he was watching for. I was awed by such devotion and by a work ethic that hasn't been seen since the 1950's.
On the flip side, my mother told me about a convention she recently attended with a blind group. She used to take my grandmother and since she has passed away, my mom continues to go with her blind friend. My mom's friend has a seeing eye dog who we shall call "Jazzy". (Name has been changed to protect the innocent. The dog is the only one innocent in this story.) First, let me say that a service dog can be treated as a loved member of the family but only by the family and only at the direction of the dogs human partner. You see where this is going? My mom and everyone else in their group is always petting Jazzy, talking to her, etc. and Jazzy's human allows this happen. This takes away Jazzy's "edge" and dilutes what she has been trained to do by shifting her focus. At the convention, when it was time to head up to the rooms for the night my mom's friend headed off with Jazzy. My mom happened to follow shortly behind. It was lucky she did. Jazzy led her partner to a downward staircase rather than to the elevator. It was really only a matter of time before it happened.
How you treat a service dog can have huge implications. When you come across one, you must remember that it is working. If you have small children, please instill this in their minds now while they are young. Never do anything that will interrupt a service dog while it is doing its task. Since you never know what that task is, like the dog I saw staring at its human, then please follow these simple rules:
Only speak to the person.
Do not touch, make noises at or even look at the service dog
Never ask if you or your children can pet the dog. Many people are just too nice to say "no".
Never offer the dog food.
In closing, I'm going to take a minute to recognize one special working dog who represents the working dogs of the police and the military that we didn't discuss. Those that risk their lives every day.
K-9 North retired on July 20,2014 after serving 8 1/2 years as a dual purpose patrol / narcotics detection dog. North, a black Czechoslovakian Shepherd and who is now ten years old, was forced into retirement due to recent health problems that affected his mobility. K-9 North, affectionately known by his fellow officers as "South" began active duty with his handler, Officer Mike Johnson on February 5, 2006. North's career included over 1,000 drug arrests in which he was utilized for traffic, residential and school drug searches. North also made several felony tracking apprehensions of fleeing suspects sought by the department. He played a valuable role to the police department in the area of public relations by performing hundreds of K-9 public demonstrations for numerous school and civic groups.
By the way, I wasn't slamming Certified Nursing Assistant's (CNA's) and certainly not specifically ones from Indiana as I was both. The work is hard, the pay is meager, that thanks are few, and the training I received was piss poor but that was also 22 years ago. I was just using it as a comparison.